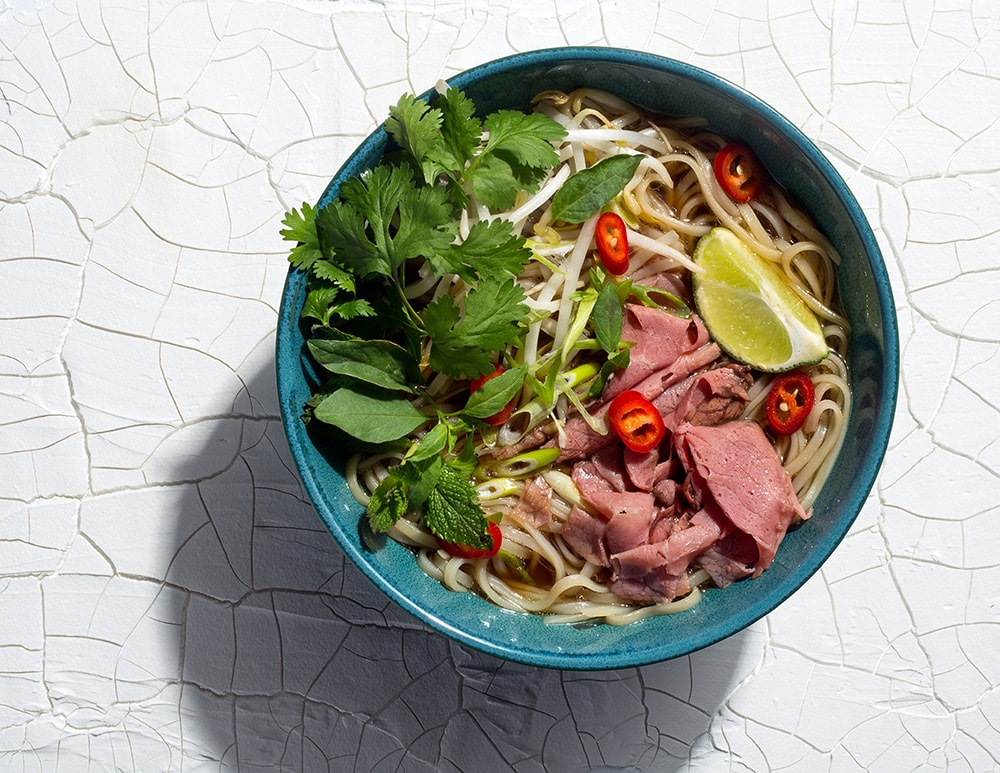 Ingredients

4 whole cloves
4 whole star anise
1 3" cinnamon stick
1 tbsp (15 ml) vegetable oil
1 large onion, cut into 8 pieces
2 inches ginger, washed, sliced into rounds
3 garlic cloves, crushed
8 cups (2,000 ml / 2 L) prepared beef broth
2 tbsp (30 ml) lime or lemon juice
2 tbsp (30 ml) fish sauce
1 tbsp (15 ml) tamari or soy sauce
400 g rice stick noodles (banh pho)
3 pkgs (450 g) Corned Beef Thinly Sliced, cut lengthwise in half or thirds
Garnishes: thinly sliced white onion, bean sprouts, green onions, Thai basil or basil, mint, cilantro, thinly sliced, red chili pepper and lime wedges
Preparation
Step 1

In a large pot or Dutch oven, over medium heat, toast the cloves, star anise and cinnamon stick until fragrant; about 2 minutes. Keep spices moving to prevent them from burning.

Step 2

Add in the oil, onions and sliced ginger. Saute with the spices until onion becomes translucent; about 3 minutes. Add in the garlic, cook until fragrant; 1 minute.

Step 3

Pour in the beef broth.

Step 4

Increase temperature to medium-high and bring the broth to a boil. Lower heat to medium-low and cover pot. Simmer for 20 minutes. Add the lime juice, fish sauce and tamari. Cover and simmer for an additional 5 minutes. Turn off heat. Strain broth and discard solids. Cover strained broth to keep hot.

Step 5

In a large pot, cook noodles according to package directions. Rinse with cold water and drain. Divide rice noodles between the bowls.

Step 6

Arrange the sliced Corned Beef on top of the noodles, lay some thinly sliced white onion, bean sprouts and green onions over the noodles. Ladle some of the hot beef broth over the meat, onions and bean sprouts. Garnish with some torn basil, mint and cilantro leaves. Sprinkle with thinly sliced red chili peppers and a squeeze of fresh lime juice.

Chef's Tips:

*Divide noodles into desired serving bowls immediately after draining, as they will clump together if left to sit too long.
*Have your dining companions dress their own bowls by arranging the garnishes on a plate or in separate little bowls.
*Serve with Sriracha sauce.