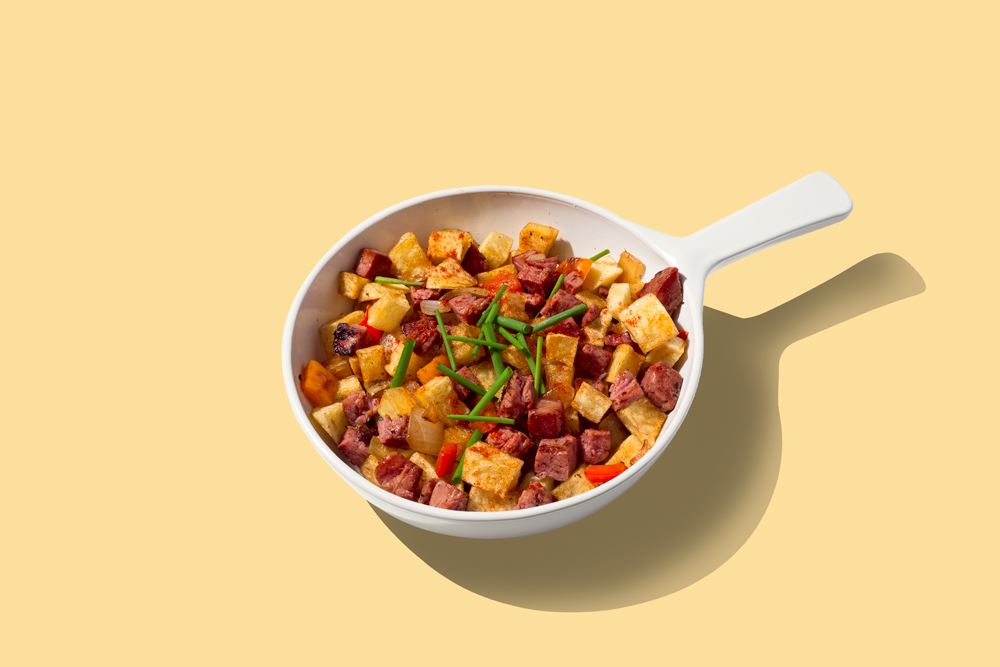 Ingredients

500 g Levitts corned beef - Deli counter - Original
2 big (or 6 small) potatoes (about 500 g)
½ red pepper, or more (to your taste)
1 small yellow onion
7 ½ ml (12 g) butter
Paprika
Ground black pepper
Some chives
Preparation
Step 1

Cut the potatoes in half and cook in water for 8-10 minutes so it can be tender, but not cooked too much. Drain and cool down a few minutes to be able to handle. Cut the potatoes and vegetables in dices of about 1½ cm (½ inch) each.

Step 2

Cut the corned beef in dices, same size as potatoes and vegetables. Reserve.

Step 3

In a nonstick skillet, sauté the onion and the pepper for 5 minutes with the butter, stirring regularly.

Step 4

Add the potato dices and keep cooking for 7-8 minutes while stirring (add some butter if potatoes stick).

Step 5

When the potatoes are golden brown, add the corned beef dices, sprinkle with paprika and black pepper, and cook until the meat is hot enough, stirring regularly.

Step 6

Serve and garnish with snipped chives.