Montreal Smoked Meat (Brisket)
Montreal Smoked Meat (Brisket) – Box – Original
Old Fashioned Montreal Smoked Meat Brisket - Original (4 X 125g sliced)
A true Canadian classic! Made from cured beef brisket, each cut is rubbed with our famous spices and smoked for more than 8 hours.
Our Original 500g box is the reference in the market! Ideal for both small and large appetites, warm-up our easy to peel pouches, each containing 125g of delicious sliced Montreal Smoked Meat. Serve with mustard between two slices of rye bread, on pasta or on a poutine – the ultimate in taste!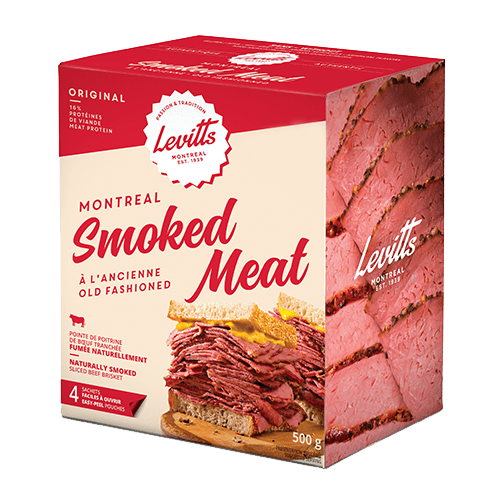 Ingredients
Beef, water, glucose solids, salt, flavour (corn), spices (contain mustard), sodium phosphate, caramel, sodium erythorbate, sugar, dehydrated garlic, sodium acetate, sodium diacetate, brown sugar, sodium nitrite, flavouring substance, smoke.
Allergen
Mustard
Preservation and preparation
Sold fresh, can be frozen afterwards. In boiling water or a steamer : simply drop the pouch in boiling water or a steamer for 10 minutes (fresh) or 20 minutes (frozen) In microwave : open the easy-peel corner or perforate pouch and cover. Heat at high for 90 seconds (fresh), if frozen use the defrost cycle
Nutrition Facts